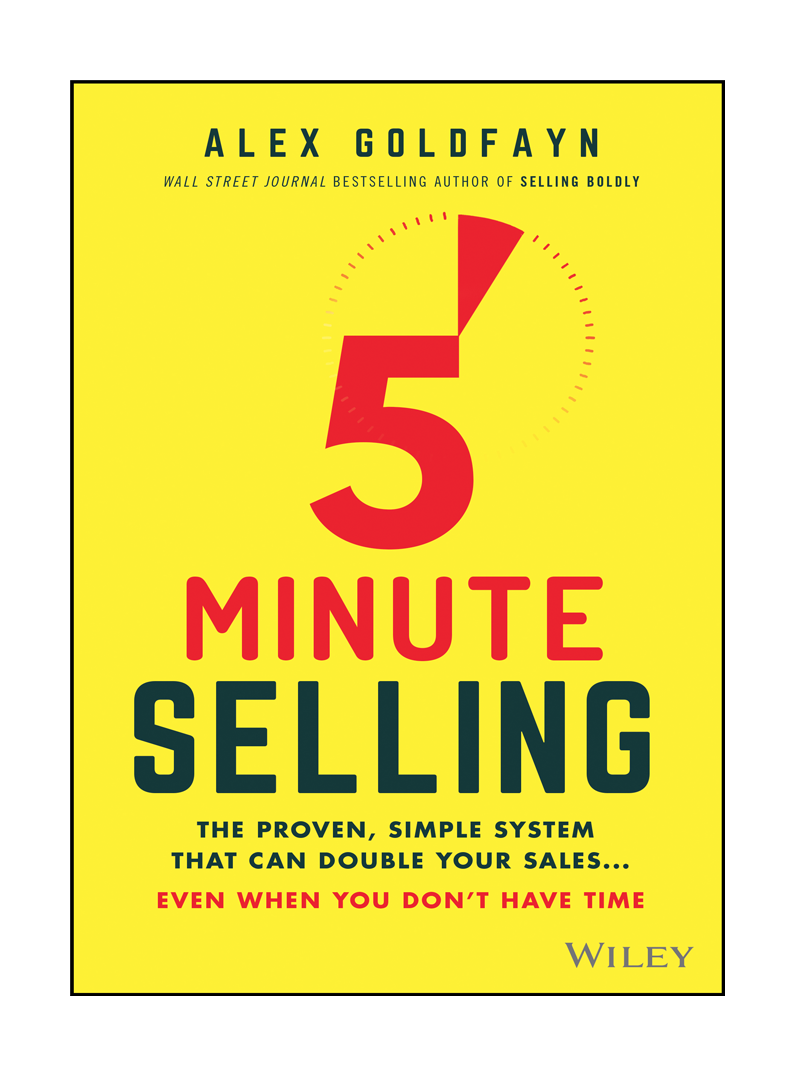 5-Minute Selling
The Proven, Simple System That Can Double Your Sales …
Even When You Don't Have Time
5-Minute Selling presents a proven, simple process that can double your sales, even if you don't have time for an elaborate new sales system. When you spend your days scrambling to take orders and resolving customer issues, there is little time for new sales techniques. This book is for you. In 5-Minute Selling, Alex Goldfayn describes how thousands of his clients and workshop attendees have generated dramatic annual sales growth with short bursts of action throughout the day. With three-second efforts throughout the day, you can add 50 to 100% to your sales.
The techniques in this book are simple but powerful:
You'll learn the power of picking up the phone proactively to call customers and prospects when nothing is wrong, because almost nobody does this
You'll get approaches for offering customers additional products and services―and asking about what else they are buying elsewhere―because almost nobody does this either
You'll also learn about the low-tech but incredibly effective singular impact of the hand-written note
In short, 5-Minute Selling is about showing customers and prospects that we care about them more than our competition does with simple, repeated, lightning-fast, high-value, consistent communications.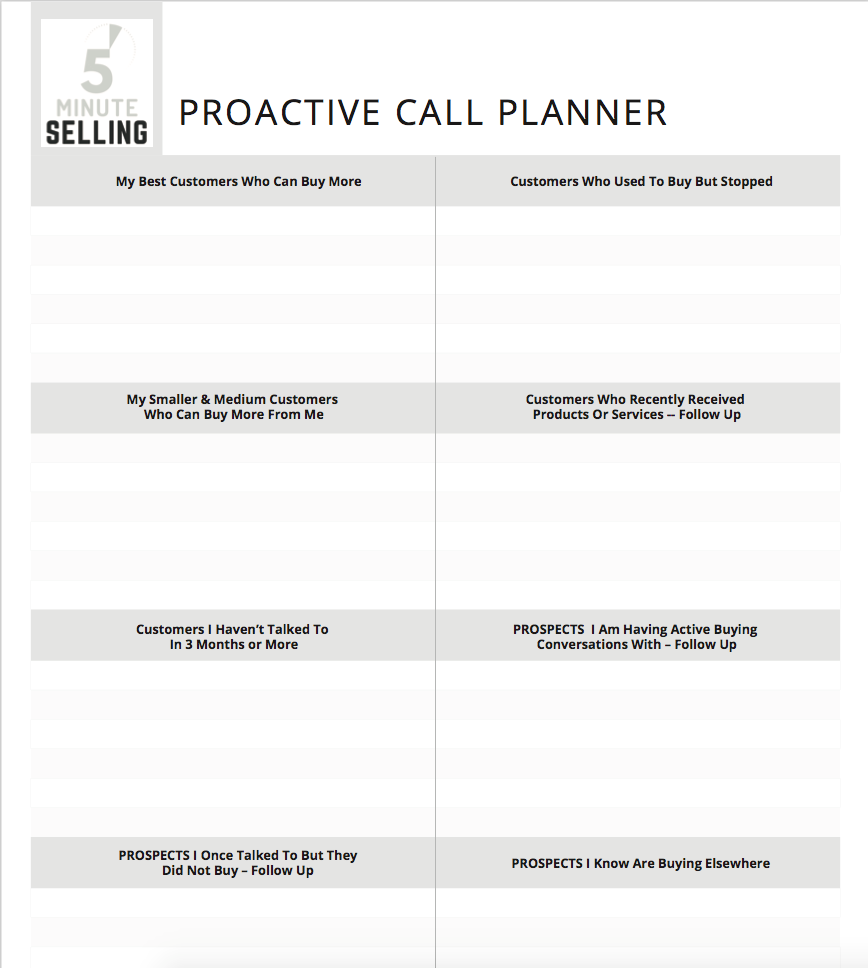 Get Your Free 5-Minute Selling Planners & Trackers Here!
You've found it! This is where to get your free 5-Minute Selling Planners and Trackers. Simply fill out the form below, and you will receive:
The 5-Minute Selling System Checklist
The Proactive Call Planner
The Weekly Follow-up Planner
The Quote Tracker
The Action Tracker
That's five pages of planners! I hope you enjoy them. And I hope you use them. And I hope you go make lots of money with them!
How to Get Your Planners: Simply fill out the two-field form below. We'll send a confirmation email to make sure it's you. You'll get your planners and trackers immediately upon confirming. That's it!
I'll also send you my weekly short-form weekly sales tips electronic newsletter, which comes on Monday mornings and features one quick tip, tool or idea to help you increase your sales quickly and easily. It's also totally free, and you can unsubscribe at any time.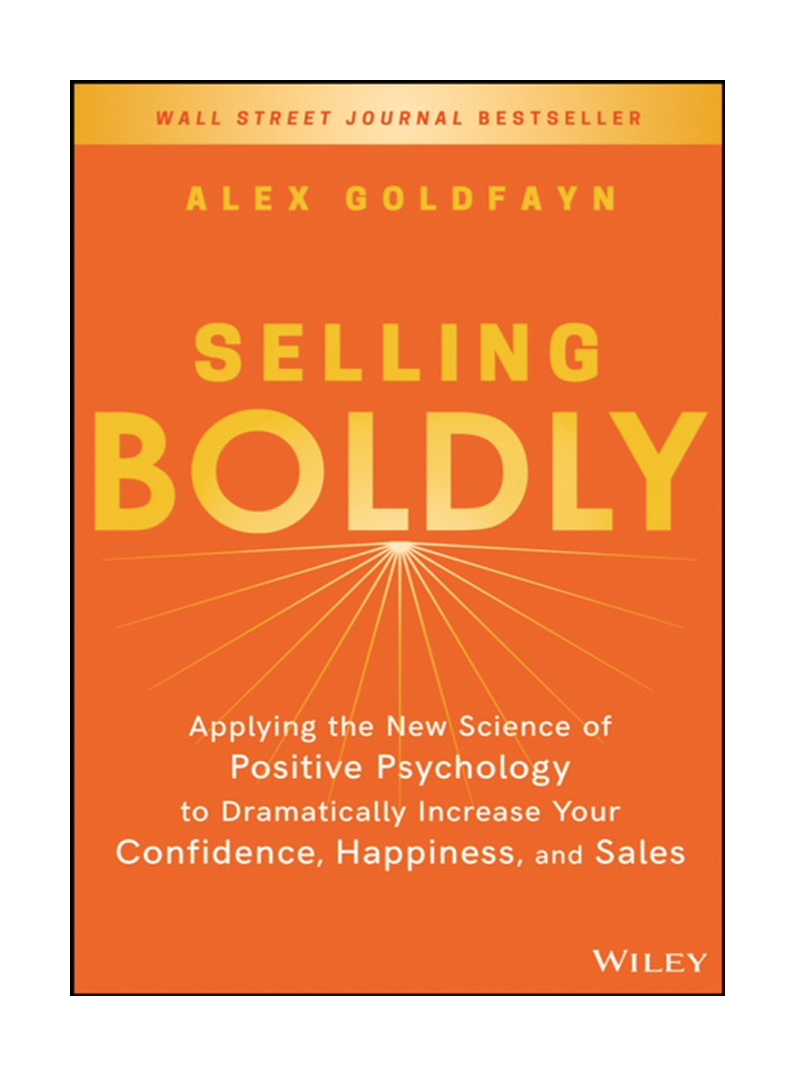 Selling Boldly
Applying the New Science of Positive Psychology to Dramatically Increase Your Confidence, Happiness, and Sales
IF YOU'RE IN SALES, FEAR HAS COST YOU MILLIONS OF DOLLARS, AND THIS BOOK IS FOR YOU. Fear is the reason most salespeople don't like to pick up the phone (salespeople average just four hours per week on the phone, and our job is to talk to humans!). Fear is the reason we don't ask for the business more, even though our customers want to buy from us. Fear is the reason we don't offer our customers additional products and services, even though they would love to buy more from us. This book deals with that fear. You will learn exactly how to overcome this destructive fear in sales, and replace it with confidence, optimism, gratitude, joy, and proactive sales work. These are the powerful principles in the new field of positive psychology which are transforming how we work and succeed. Selling Boldly is the first book that leverages positive psychology to help you sell more. You'll also learn a series of fast, simple sales-growth techniques–like how to add on to existing orders; and how to close 20% more quotes and proposals instantly; and how to properly ask for and receive referrals–that will grow your sales…dramatically and quickly. Alex Goldfayn's clients grow their sales by 10-20% annually, every year, as long as they apply his simple approaches.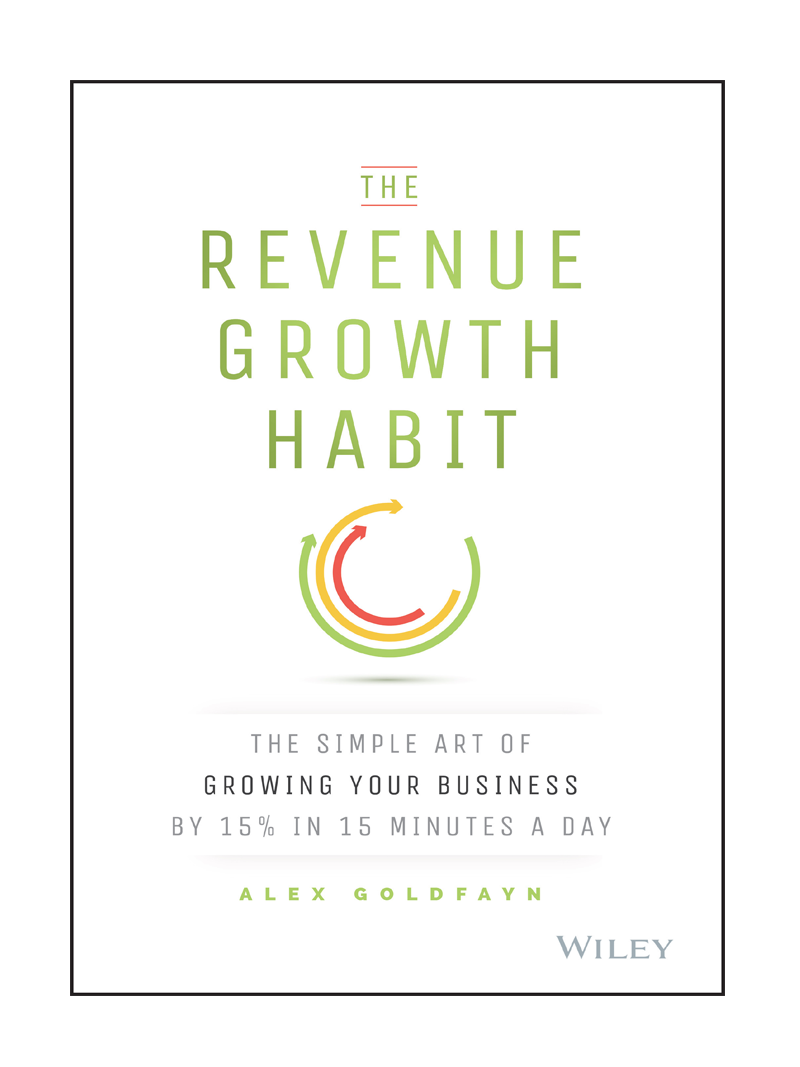 The Revenue Growth Habit
The Simple Art of Growing Your Business by 15% in 15 Minutes Per Day
Do you have trouble finding time during your hectic day to grow your business? Is your company stalled because you are too busy reacting to customer problems? Do you lack the funds to jump-start an effective marketing plan?
The Revenue Growth Habit gives business owners, leaders, and all customer facing staff a hands-on resource for increasing revenue that is fast, easy, and requires no financial investment.Alex Goldfayn, CEO of the Evangelist Marketing Institute, shows you how to grow your organization by 15% or more in 15 minutes a day… without spending a penny of your money.
How does it work? Each day, take one quick, proactive communication action that tells someone about how they'll be improved after buying from you. Choose from the 22 actions Goldfayn details in this essential guide. Each technique is fast, simple, and free. It only requires your personal effort to communicate the value of your product or service to someone who can buy from you. Personal communication–the key to the 22 action steps–will make your company stand head-and-shoulders above the competition.
Forget about relying on social media. Posting on Twitter, Facebook, and LinkedIn doesn't grow revenue, especially for business-to-business companies. The Revenue Growth Habit shows how to request and collect testimonials and how to communicate these testimonials to grow your business. You will discover how to write powerful case studies, ask for (and get!) referrals, grow your lists, and send a revenue-growing newsletter. Goldfayn also includes information for teaching your customer-facing people how to inform customers and prospects about ALL that they can buy from you. This proven approach revolves around letting your customers tell your story.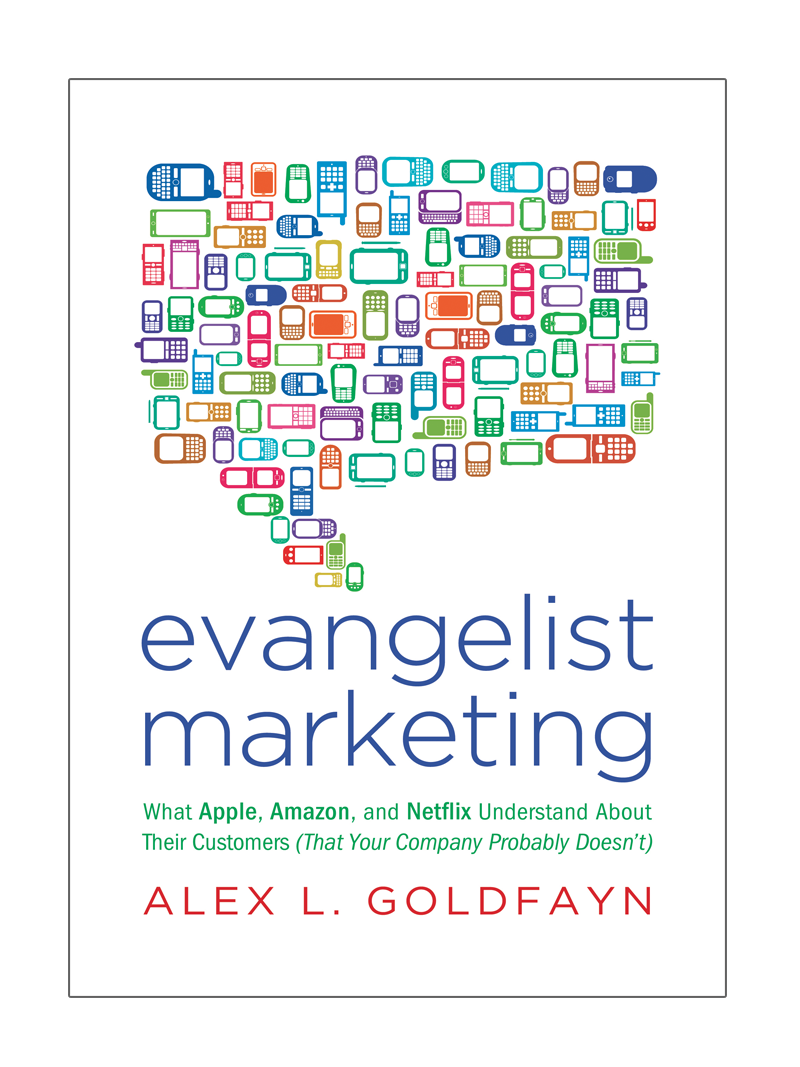 Evangelist Marketing
What Apple, Amazon, and Netflix Understand About Their Customers
(That Your Company Probably Doesn't)
In Evangelist Marketing, Alex Goldfayn argues that technology companies succeed in spite of their marketing, not because of it. He says that if consumer tech makers ceased all marketing activity today, they would not see a significant decline in sales.
In this book, Alex presents why the current state of overly-technical, features-oriented tech marketing, branding, communications and public relations is costing the industry billions of dollars—easy money that's voluntarily being left on the table.
Then he lays out a step-by-step system for creating intensely loyal brand evangelists based on deep consumer insights and simple, emotional language.
Evangelist Marketing is written for consumer tech companies big and small—from PC manufacturers to Web-based services. It's also sure to improve the work of their marketing and public relations agencies.